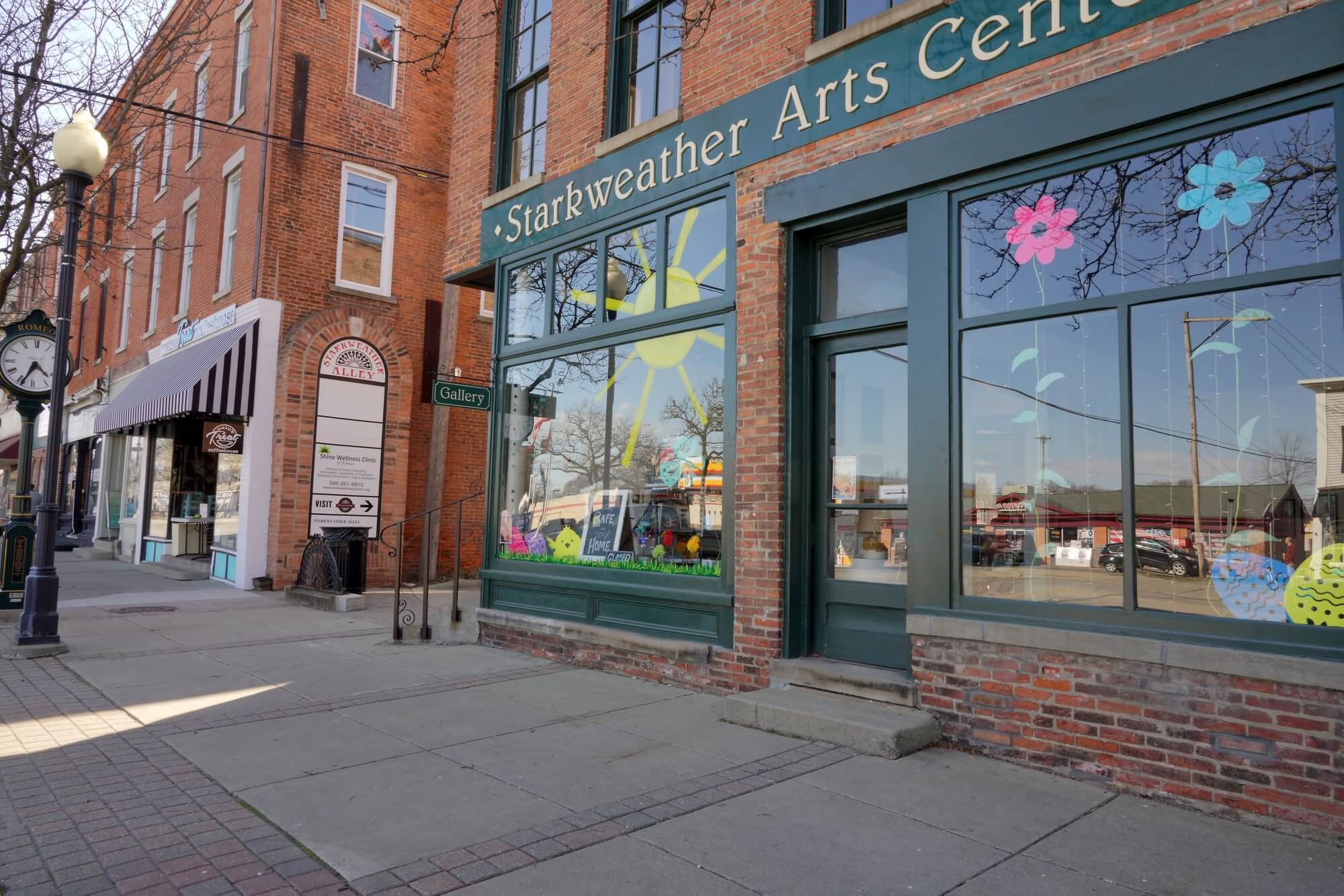 Starkweather Arts Center
Non-profit art gallery, performance venue, gift shop and arts education in historic Downtown Romeo.
Starkweather Arts Center operates as a 501(C)3 non profit under the legal name of Starkweather Society. Our day to day operations are currently run by our Board of Trustees, with the assistance of volunteers and occasional employed staff.  We maintain our gallery and programs through sales, events, grants, classes, memberships, and by generous community members and organizations who donate. Our mission is that of Helen Starkweather's: To promote and support the arts and artists in the Romeo Community.  The arts enrich our lives and towns.  Please help us keep the arts alive in our community!  Join our membership and attend our programs; come visit!
Starkweather Arts Center owes its existence to a trust created by Helen Starkweather, a lifelong resident of Romeo.​
Ms. Starkweather taught art and drafting in the Romeo school system for more than forty years. Many current residents fondly remember having Helen as a teacher.  
​When Helen died in 1987 at the age of eighty-four, she left her estate to the ​Romeo Historical Society and the Village of Romeo. Her will stipulated that her home and studio at 219 North Main Street be used as an art and cultural center "…dedicated to promoting and fostering the appreciation of art and artisans and to support the preservation of the character and quality of the Village". 
The Center includes two beautiful exhibit galleries and a sales gallery. Our 2nd floor gallery restoration project was completed in 2009 and has allowed us to launch an Art Education program and host monthly Open Mic Nights to area musicians and performers. In recent years, many building updates have occurred including transforming the Carriage House into a Clay Studio which has allowed us to engage in "Empty Bowl" fundraisers for local food pantries. Helen Starkweather understood the value of art in society. It is the goal of the Starkweather Board to foster and promote artistic excellence in the Village of Romeo and surrounding communities. By providing quality art experiences through art education, exhibits and events, Starkweather aims to enhance the quality of life in Northern Macomb County.